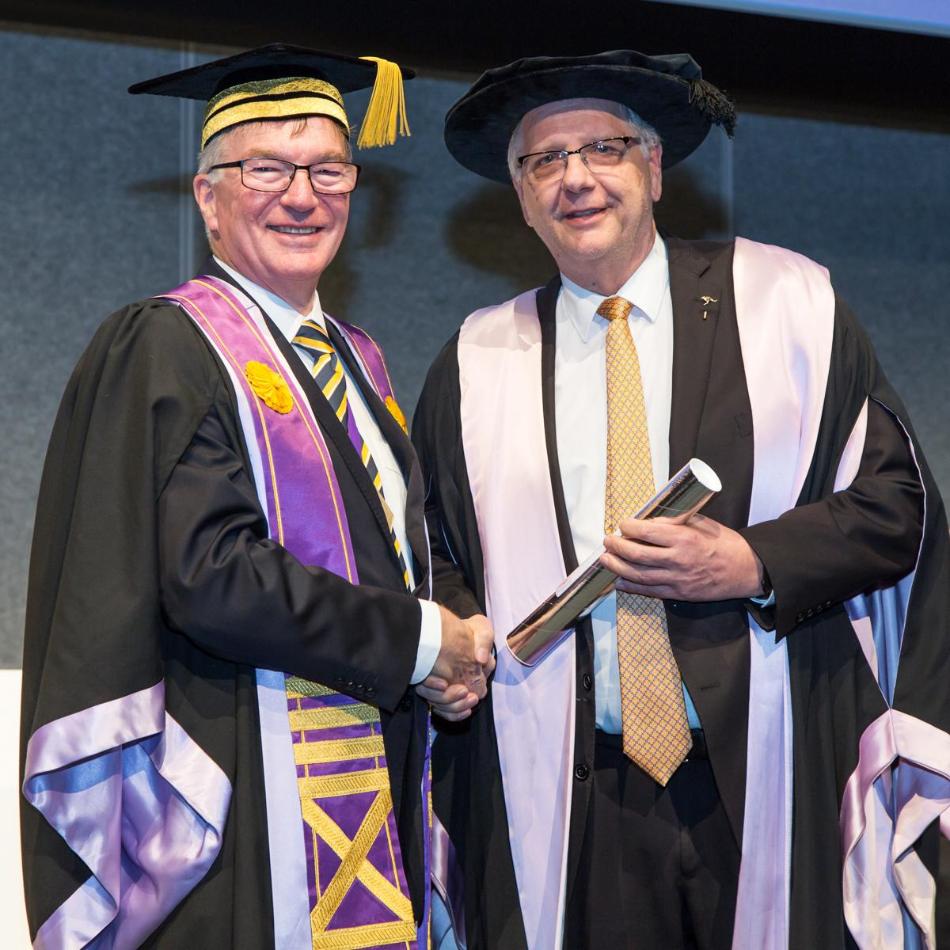 The strength of skin cancer research at The University of Queensland has been recognised by a national award for the Director of the Dermatology Research Centre from the Australasian College of Dermatologists.
Professor H. Peter Soyer has received the prestigious Belisario Award for Academic Dermatology, in recognition of his remarkable achievements in clinical, translational and laboratory research.
Dr Andrew Miller, College president 2017-2019, said it gave him great pleasure to award Professor Soyer the Belisario Award for Academic Dermatology on behalf of the Australasian College of Dermatologists.
"The award recognises Peter's unique capacity to bridge the gap between clinical practice and basic scientific research that is yielding significant benefits to the community in the form of improved health outcomes." Dr Miller said.
"Peter has demonstrated great energy and foresight in bringing together a team that has significantly enhanced both the day to day clinical practice of dermatology, and the scientific underpinning of medical knowledge."
Professor Soyer has a dual role as the inaugural Chair and Director of the Dermatology Research Centre, The University of Queensland (UQ) Diamantina Institute, at the Translational Research Institute, and as Director of the Dermatology Department at the Princess Alexandra Hospital.  
His efforts have established a world leading Dermatology Department and presence at UQ over the last 12 years.
Most recently, Professor Soyer led the successful $10million bid to the Australian Cancer Research Foundation to establish the a world first Australian Centre of Excellence in Melanoma Imaging and Diagnosis, which is set to be a game changer in the early detection of melanoma.
He initiated the establishment, and is Co-leader of the Australian Skin and Skin Cancer Research Centre, a joint venture between UQ and QIMR Berghofer Medical Research Institute.
He is lead investigator of the Centre of Research Excellence for the Study of Naevi and a Partnership Grant on the early detection of melanoma, a Queensland Genomics Health Alliance Demonstration Project 'A Genomics Approach for Screening of Patients at High Risk of Melanoma', and a UQ Faculty of Medicine Health Outcome Program '3D QMelanoma – Targeted Early Detection of Melanoma Utilising a 3D Teledermatology Network'.
Professor Soyer was also awarded a Medical Research Future Fund Next Generation Clinical Researchers Program Practitioner Fellowship. 
His research group's main focus is skin cancer (both melanoma and keratinocyte skin cancer) and he is co-inventor in patents for novel skin delivery platforms and microbiospy sampling devices. He has an extensive publication record with over 500 publications.
Professor Soyer has also been elected as a Fellow of the prestigious Australian Academy of Health and Medical Sciences.
The University of Queensland is leading a campaign to endow the Chair in Dermatology. To learn more or organise a visit to the Centre, contact Nic Zanyat, n.zanyat@uq.edu.au or phone +617 3443 7026.
Media: Melissa Kerr, melissa.kerr@uq.edu.au, +617 3443 7395.