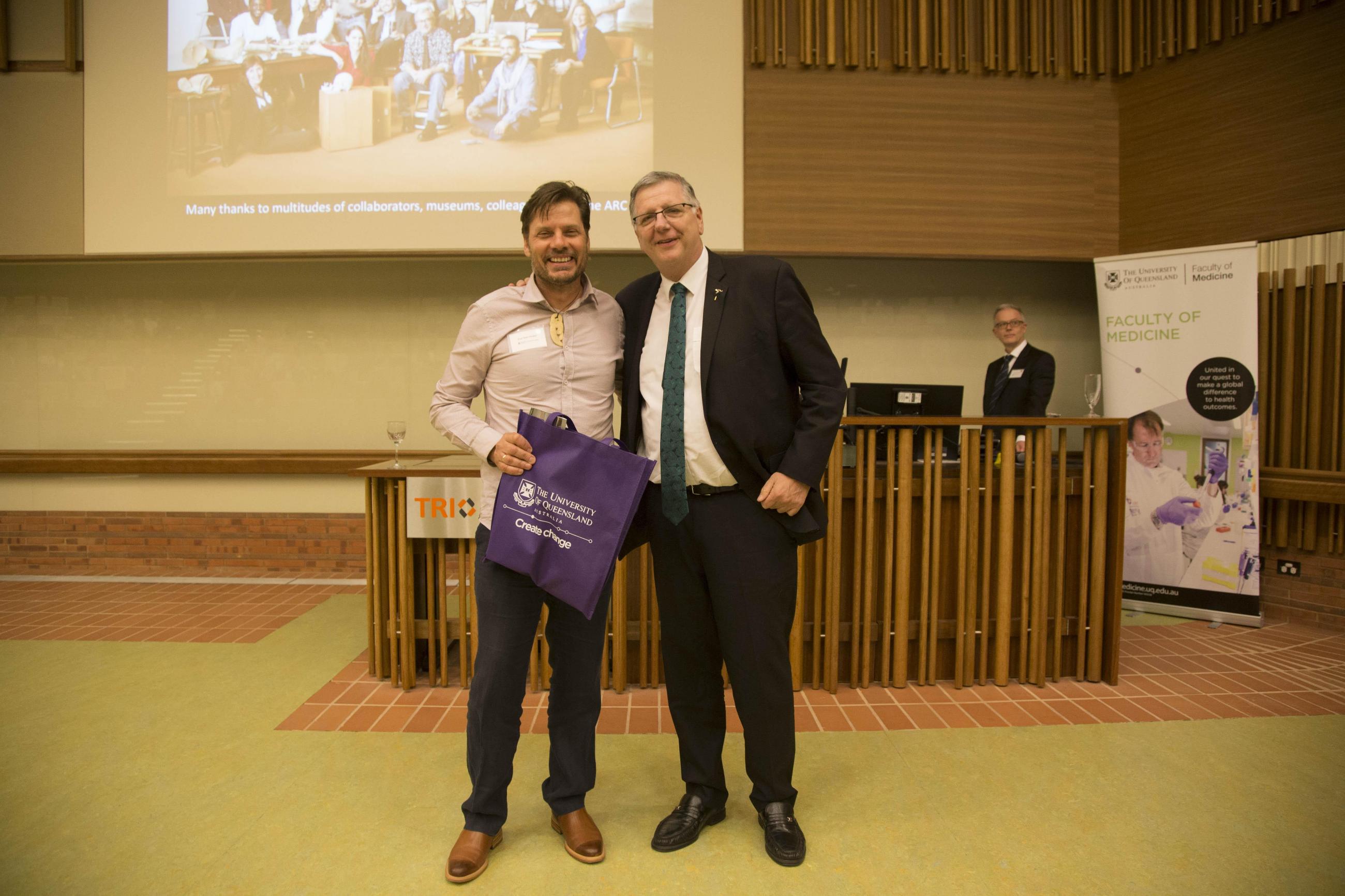 The 2018 Alan Cooper Epiderm Lecture was recently hosted by The University of Queensland Dermatology Research Centre at the Translational Research Institute in Brisbane on Friday 27 July.
This year's event featured a keynote presentation by Professor Alan Cooper, ARC Laureate Fellow, Director, Australian Centre for Ancient DNA, Sir Hubert Wilkins Chair of Climate Change, University of Adelaide, on "Evolutionary changes in the human microbiome and immune system".
This address was enabled by the Epiderm Lecture's namesake, Professor Alan Cooper, Sydney Dermatologist.
The welcome address was given by the new Executive Dean of the UQ Faculty of Medicine, Professor Geoff McColl who acknowledged the many donors and supporters involved in the event.
"We are so grateful to our donors and supporters, who have made our research and events like the Alan Cooper Epiderm Lecture possible". Professor McColl.
The successful recipient of the Australian Skin and Skin Cancer Research Centre (ASSC) 2018 Grant Scheme was awarded on the night by Professor David Whiteman, Deputy Director QIMR Berghofer Medical Research Institute, and Professor Joanne Aitken, Cancer Council Queensland.
The winning project came from Associate Professor Jason Lee (QIMR Berghofer) and Professor Andrew Barbour (UQ and Princess Alexandra Hospital), who will be collaborating for the first time, investigating "Statins as a potential therapeutic agent for Melanoma".
The ASSC draws together some of the world's leading experts from The University of Queensland and QIMR Berghofer Medical Research Institute to work on collaborative research projects.
This year's event acknowledged UQ's campaign to Endow the Chair in Dermatology.
Other speakers at the lecture included Australasian College of Dermatologists President, Dr Andrew Miller, and UQDI Director, Professor Paul Clarke.
View highlights from the 2018 Alan Cooper Epiderm Lecture, including the Event Program and Event Photos.
Media: Melissa Kerr; melissa.kerr@uq.edu.au; +61 3443 7395