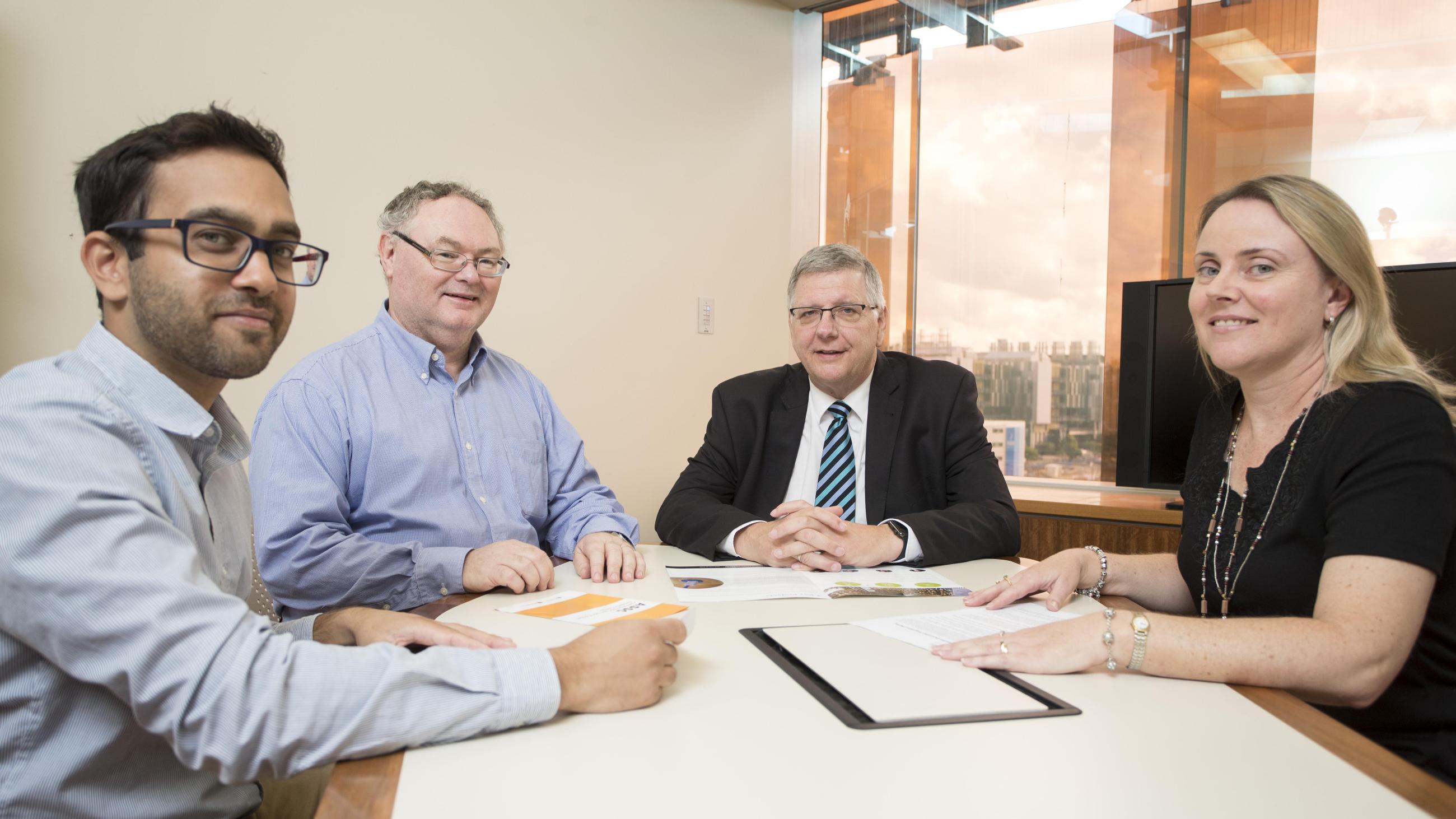 Professor H. Peter Soyer has been named in the NHMRC Ten of the Best Awards, in recognition of Dermatology Research.
The award recognises research conducted under Professor Soyer's Practititioner Fellowship, as well as the current NHMRC Centre for Research Excellence for the Study of Naevi and is summarised below.
New technology to spot skin cancer sooner
The number of skin cancers, including melanomas, continues to rise in Australia. Detecting melanoma early is critical for survival—rates worsen as the thickness of the melanoma increases. Professor H. Peter Soyer is a world leader in dermatology and preventative measures for skin cancers. Professor Soyer and his group at The University of Queensland have been researching and implementing a number of programs using the latest technologies to help detect skin cancers sooner.
'Melanoma is the most common cancer for 15-39 year old Australians—with the highest 'years of life lost' of any cancer'1
Professor Soyer's lifelong vision is to reduce the burden of skin cancer through early detection of melanoma and other skin cancers. One of his unique projects is the Skin Emergency Telemedicine Service (SETS) program. This service uses asynchronous Store-and-Forward Technology to provide rapid and accurate dermatological diagnosis and is critical in Queensland emergency departments.
'This eliminates the days or weeks of waiting to obtain a specialist consultation in rural Queensland,' Professor Soyer said.
Professor Soyer is also involved in several areas of pigmented naevus (moles) and melanoma research.
One development is the use of total body 3D photography and dermoscopy—allowing monitoring of moles at high risk of developing into melanoma.
'Major goals of our research are to understand the genetic basis of the clinical presentation of mole phenotypes and human pigmentation traits (skin, hair and eye colour) to provide better melanoma risk stratification,' Professor Soyer explained.
 'Expertise in naevus and melanoma research has led to the NHMRC funded Centre of Research Excellence for the Study of Naevi,' he concluded.
Professor Soyer is now coordinating findings from current genomics, diagnostics and consumer-based research projects to identify individuals at high and ultra-high risk. These individuals will then be screened using a combination of 3D total body photography, consumer-driven mobile teledermoscopy, and minimally invasive microbiopsies for suspicious lesions.
'It is the first program of research to test these technologies in the context of the Australian health care system, and will be used to drive evidence-based changes to clinical practice,' he said.
'Based on my lifelong dedication to this field I am confident of making a significant contribution to the ultimate goal—no one should die of melanoma.'
Professor Soyer is also collaborating with the Queensland University of Technology and the University of Arizona, Tuscon, USA, in developing mobile melanoma screening—using mobile phones and dermatoscopes—to detect melanoma earlier. 
Next steps:
Professor Soyer and his team will continue their research program on 'Early Detection of Melanoma' with a particular focus on integration into clinical networks. He will also lead the Brisbane Diamantina Health Partners Skin and Skin Cancer Theme, with the aim of promoting and enabling collaborative and translational research to generate clinical outcomes in this field.               
---
1 Burnet NG, et al, 2005, Years of life lost (YLL) from cancer is an important measure of population burden—and  should be considered when allocating research funds. Br J Cancer. 2005 Jan 31;92(2):241-5