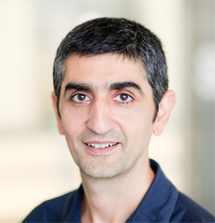 The University of Queensland Dermatology Research Centre continues to expand with the recent integration of UQDI's Experimental Dermatology Group.
Led by Associate Professor Kiarash Khosrotehrani, the Experimental Dermatology Group has a strong focus on skin wound healing, regenerative medicine, and skin cancer initiation and progression.
"We are excited to bring our skillset and new approach to skin diseases to the DRC," A/Prof Khosrotehrani said.
"We strongly believe that the range of existing expertise at the Dermatology Research Centre around discovery and implementation of research is world-class and will greatly benefit Australian patients as well as future medical graduates."
Dermatology Research Centre Director and Chair in Dermatology, Professor H. Peter Soyer, welcomed the move to strengthen UQ's collaboration in Dermatology.
 "We are delighted that A/Prof Kiarash Khosrotehrani, in addition to working with us clinically at the Princess Alexandra Dermatology Department, now joins the UQDI Dermatology Research Centre with his team, enhancing the dermatology research capacity at UQ, creating an opportunity to achieve extraordinary outcomes in the translation of skin and skin cancer research." Professor Soyer said.
A/Prof Khosrotehrani was recently presented with an award for being the top-ranked applicant in the Clinical, Level 2 category of the NHMRC's Career Development Fellowship.
Professor Soyer and A/Prof Khosrotehrani are co-leaders of the Australian Skin and Skin Cancer Research Centre (ASSC), a joint collaboration of The University of Queensland and QIMR Berghofer Medical Research Institute.
Media: UQDI Dermatology Research Centre, Melissa Kerr, melissa.kerr@uq.edu.au, +617 3443 7395.