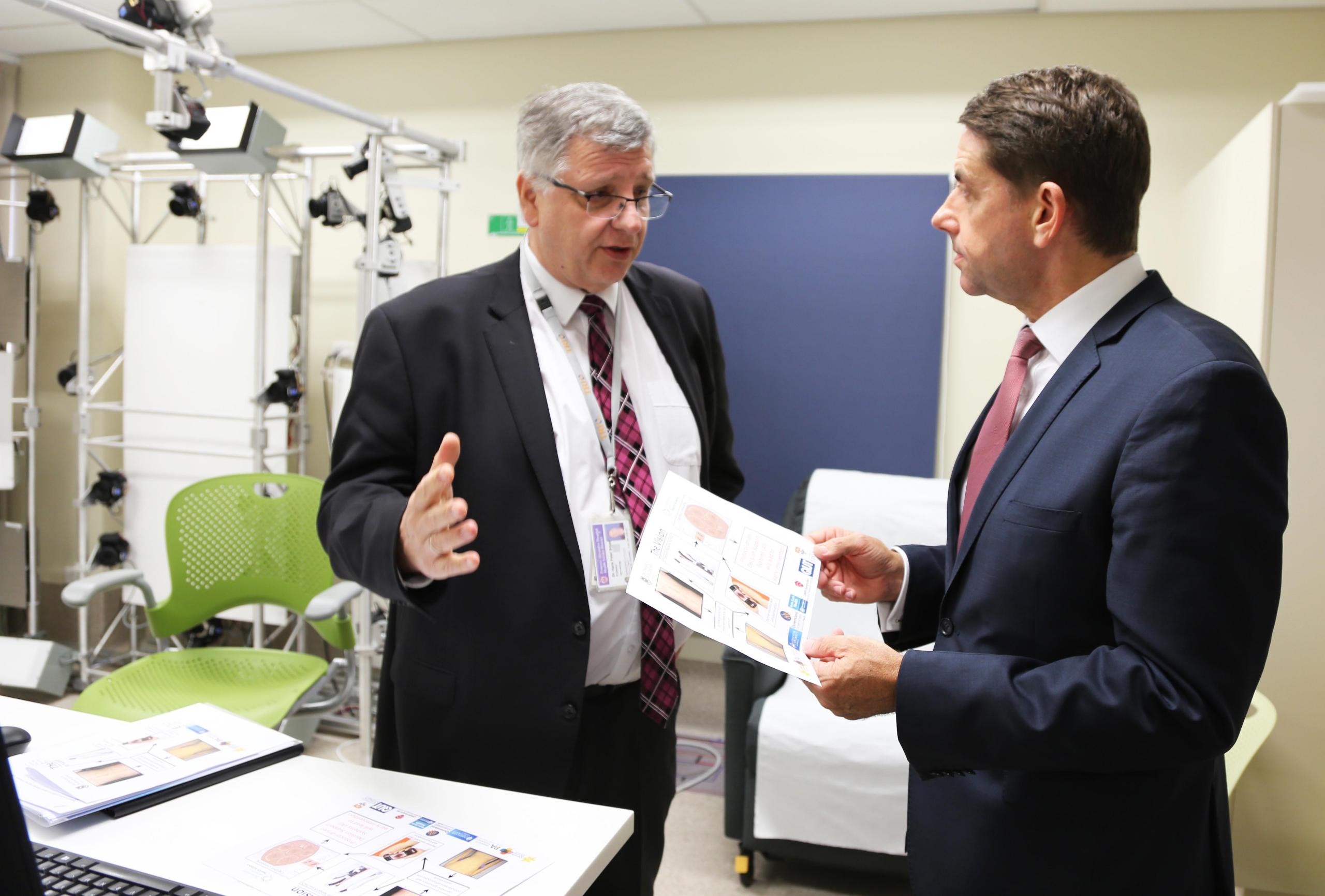 Knowing your risk of developing melanoma could be as simple as taking a saliva based genetic test, with a Queensland Government funded project set to revolutionise early detection of the deadly skin cancer.
Health Minister Cameron Dick said the project led by Professor H. Peter Soyer, the Princess Alexandra Hospital (PAH) Director of Dermatology and University of Queensland Diamantina Institute Chair in Dermatology, would receive $600,000 over 18 months.
The clinical demonstration project will investigate a genomics approach for screening of patients at high risk of melanoma.
"It will be funded through the Queensland Genomics Health Alliance (QGHA), a $25 million five-year program funded by the Palaszczuk Government under the Advance Queensland initiative," Mr Dick said.
"Our Government is positioning Queensland as a world leader in the translation of genomics research into healthcare practice.
"Professor Soyer's project is vital for Queenslanders as our State has received the unfortunate title of melanoma capital of the world, with the highest incidence rates of melanoma globally.
"Melanoma was the third most commonly diagnosed cancer in both Australian men and women, affecting more than 13,000 each year, and that number is growing annually.
"The 2016 Chief Health Officer Queensland Report states there were 352 melanoma deaths in Queenslanders in 2014, 237 were men and 115 were women. About one in seven deaths occurred in adults under 50 years of age.
"There were 3711 incidence of melanoma in 2014, 2,210 were men and 1,501 were women."
Professor Soyer said the project would take an innovative approach to melanoma prevention, with the aim of using a simple saliva based genetic test to identify a person's inherited/inherent risk.
"Early melanoma diagnosis is crucial and by knowing a person's genetic risk on top of the well-known clinical risk factors including high naevus count, we can monitor high-risk patients more closely and dramatically improve the chances of early detection and survival," Professor Soyer said.
He said the project would use data from hundreds of volunteers based in Queensland who agreed to undergo saliva testing. DNA from high-risk participants will then be assessed for genetic risk for melanoma.
"By using cutting-edge diagnostic imaging technology, such as the VECTRA whole-body scanner, we can achieve a cost-efficient and effective way to assess patients with high genetic risk of early melanoma," Professor Soyer said.
"In 2014, the total estimated costs of advanced melanoma was $422 million nationally, with health care making up 39% of that figure. Queensland has the most to gain from improving the efficiency of early detection and reducing the burden of advanced disease."
In April, the Minister announced Professor Soyer was one of nine recipients awarded QGHA funding in the first of three rounds.
Mr Dick said Professor Soyer's project and three others – aimed at demonstrating the use of genomics medicine to diagnose and manage patients with lung cancer, infectious diseases and maturity-onset diabetes of the young – would receive $600,000 over 18 months. 
"The five other projects awarded funding are aimed at building the capability of Queensland's health services to implement genomics to improve the health of Queenslanders. Each of these projects will receive $480,000 over 18 months."
Media: Kim Lyell, k.lyell@uq.edu.au, 0427 530647